White Mountains, July 2003
I know the White Mountains are not in the Adirondacks, but this trip was worthy of the web page. I went with Dan, Roger, and Bill. Dan and Roger had attempted Mt Washington in 2001 but the weather stopped them from making the summit. They decided to go back this year...with reinforcements. While I really wanted to start getting after the rest of my 46er list, I couldn't resist the invitation and couldn't let my hiking partners down. After many suggestions and much advice we decided on a 4 day, 3 night trip that would include 5 peaks over 5k (including Washington of course). Days 1 and 4 would be pack in/out days. Let's begin at day 2:
Day 2
After a good nights rest at our wilderness camp site near the Peabody River, we loaded our packs for a day trip (food, water, cameras, rain gear, and warm clothes) and started towards our first of 3 peaks that day; Mt. Jefferson at 5716 feet. The original ascent up Jefferson's knee is very steep with a few ladders, caves and rock faces to traverse. The view of the gulf just gets better as you gain altitude.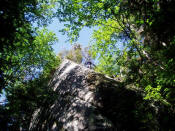 We finally crested the ridge above tree line only to see that we had a huge rock/grass lawn to cross and Jefferson's summit was still not visible. We were surprised to see a snow field still hanging on in July. After climbing through many rocks and boulders, we reached the summit which was in the clouds and reminded me of being on the moon. (not that I've been to the moon or anything) .







There is a huge cairn there at least 10 feet tall. It took us nearly 4 hours to summit from camp and we still had 2 more peaks to go. After a brief break we headed for Adams, the second highest peak in the northeast at 5799 feet. The trail led us along a ridge between the two mountains with the Jefferson Gulf below.





Adams looked so impressive from here. We remained above tree line but still descended about 700 feet before starting the ascent to Adams. We stopped at Storm "Lake" for water and headed up the rocky trail to Adams. The views of Washington and the entire Great Gulf Wilderness from Adams are awesome. Knowing we still had a lot of ground to cover and Mt. Madison to climb we moved on.





Our first mis-calculation of the trip was descending Adams from the east side as opposed to the slightly longer but less steep west descent. The descent took a toll on all of us, especially Bill who was beginning to have some pain in his right knee. We briefly thought about passing up Madison, but we were not to be denied. By the time we bagged Madison, it was after 4 pm and I was feeling the effects of a long rugged day. We still had to descend Madison and side hill down Adams to get back into the Gulf and reach our camp. We stopped at the Madison hut to replenish our water and to use a "real" bathroom facility.





I was having some problems myself causing me to have to make frequent stops in the wilderness. I won't go into any more details except to say I was having a rough time and a "real" bathroom was a treat. The hut is very nice and supper sure smelled good, too bad we had to leave. By the time we were half way down the side of Adams, Bill's knee was really hurting him. Dan and I secretly made plans that I would pack out with Bill in the morning if his knee was still bothering him and Dan and Roger would continue on. We got back to camp just in time to make supper, clean up and hit the sack. A long and challenging day that was well worth the pain.
Day 3
We had no problems sleeping and after a good breakfast, we packed up our camp and prepared for the grueling hike to Mt. Washington up the Great Gulf Trail (with full packs).





Above is a shot of Mt Washington when it briefly cleared up enough to see all the way to the summit. You can see the vehicle road snaking up the ridge, we would take a trail that ascended the headwall (seen on the right still in shadow).

Bill said he felt pretty good and wanted to give it a shot. We decided he would have to make a decision before we began the 1600 foot / .8 mile ascent of the main headwall. The beginning of the trail was very nice following the river and along many cascades as we started to ascend deeper into the Great Gulf. We all felt surprisingly good and were making good time. The weather started out sunny but was beginning to cloud over as we neared the main headwall and our monstrous ascent. We stopped for a break at Spaulding Lake and refilled our water as well as our stomachs.





This was the point of no return for Bill. Although he clearly was feeling some pain in his knee, he decided to go on. It seemed to bother him more on the down hills so he thought he would be ok to summit Washington. The trail got steeper and more rugged as we had to work our way over and around boulders as well as loose rock.






The rain began to fall just about the time we came out of the last cover of vegetation. The trail became increasingly treacherous as the rain soaked the rocks and the loose gravel. We put on our rain gear as it became more heavy and continued up. When we were about 3/4 the way up the headwall and at the steepest part, a flash of lightning caused us to take cover in a small cave. By this time Bill had let me know that he was in trouble with his knee. My only response was to look down at where we came from and then to look up at the much shorter distance to the top of the headwall and say "we have to get you up there". As we continued, we were spread out with Roger (aka The Terminator, because he's a machine) and Dan (who's training regiment for this hike was to be a couch potato since our last hike in May) ahead of Myself (who would like to say I was hanging back with Bill, but was just plain tired out) and Bill (who by now was basically climbing the mountain with one leg). The rain continued and when we finally reached the top of the headwall it was fairly heavy and sideways. Not to mention cold. At the trail junction .2 miles from the summit, we put on warmer clothes under our rain gear as the weather continued to worsen. We had to get moving quickly as Dan began to shiver. The observatory and antenna came into view through the fog for a second and I let out a half hearted yell of accomplishment. We didn't spend any time celebrating our summit climb, just tapped the USGS marker at 6288 feet and headed toward the summit house to get out of the weather.





By the time I caught up with Dan and Roger in the building, they had already made the executive decision to catch the shuttle down. We were planning on sending Bill down anyways so it didn't make sense to continue in the bad weather and to set up camp in the rain. We did what we came to do, with the exception of Monroe which really was an "on the way" peak in our trip plans anyways. So our 4 day trip became a 3 day trip. The shuttle dropped us at Pinkham's Notch and one of the summit house employees was kind enough to offer us a ride to our vehicle and the hot showers at the Dry River campground. Thanks so much Margaret!
I would definitely like to come back, probably not for a while as I now want to concentrate on hitting the ADK 46. I was really impressed by the ruggedness of these mountains and the hospitality of everyone we met along the way.