This was my first hike to the summit of Mt. Marcy, formerly known by the native Americans as Tahawus (cloud splitter). Dan and I started at the Upper Works trailhead and hiked in from the southwest. We followed the Calamity Brook trail (named because of the accidental death of David Henderson in 1845 while scouting for new water sources). We then proceeded to Colden Dam and the flowed lands area (black bear country). We were told to expect possible black bear encounters but did not see any on this trip. We then picked up the trail that followed the Opalescent River upstream (and uphill) to our base camp (8 miles in, at an elevation of about 3300 feet). After leaving our frame packs, we continued upstream to Lake Tear of the Clouds. This is the highest source of water for the Hudson River at an elevation of about 4300 feet. Our final ascent to the peak was about a mile covering over 1000 feet in elevation. After Chillin' on the peak for awhile we headed back to base camp for a hot meal and some well needed rest. Total miles the first day were 13. The next morning we got up early, had some hot oatmeal and coffee, packed up our camp and began the 8 mile hike back to the trailhead.
---

Near the beginning of the hike, we crossed this bridge at Calamity Brook. In the spring it would be the only way across



Here's the monument to David Henderson, who lost his life while scouting for new water sources in 1845.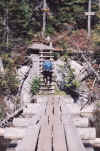 Dan on the ladder at Colden Dam



A crystal clear pool on the Opalescent River

Dan pondering on the Opalescent

Our first view of the peak from the trail near Lake Tear of the Clouds. After over 9 miles of hiking, this is not what you want to see!

Chillin' on the peak, snackin' on some beef jerky with Haystack Mountain in the background.
---
Back to Top