September 2009


So, I only found 3 pictures dated September 26, 2009. It looks like we went back to Cheney Pond just south of the high peaks, true wilderness back there, believe me. It's funny but I really don't remember this trip at all. I'm sure we didn't catch any fish.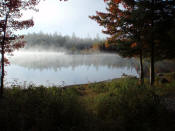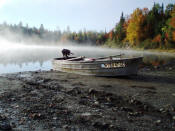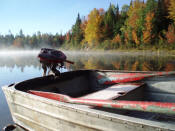 As you can see, we brought along the rowboat and the Water Witch (a bit of outboard history there)
---
October 2010, Cedar River Flow
This year Roger could not make it, and we also decided to try a different location, we had been wanting to explore more of the Western Adirondacks so we decided to head to the Cedar River Flow area. We brought the Pop-Up and lived in relative luxury. We did bring a small row boat with an outboard and ventured onto the "flow" once, but there were no fish to be had.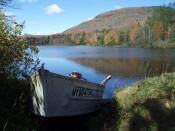 Yes, that is a Water Witch mounted on the back of that rowboat.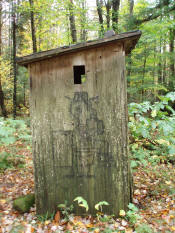 Cool Grafitti (I mean artwork) on the outhouse, eh?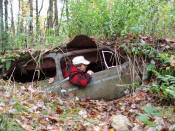 Don't ask
So the Cedar River Flow is off the list for now, at least for the fall trip. We did venture back in the winter for a snowshoe adventure however. It was still a great place and a great time to be in the woods.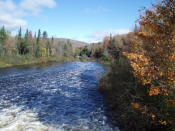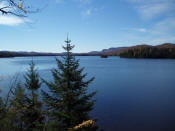 ---
September 2011, Saranac Lake (Weller Pond)
I believe this is the first year that we actually camped on Weller, though we've fished it just about every year as long as the water was high enough to get back in there. Now that Jon had the Grumman to use for our adventures, we could go just about anywhere
.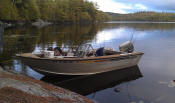 Based on the pictures I have, it appears the weather was about normal, some sun, clouds, and probably some rain based on Jon's "Gorton's Fisherman" jacket
.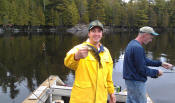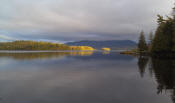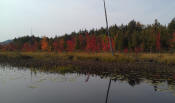 It also appears we all did pretty well in the fish catching department. Roger's big bass is still the best largemouth we've taken up there, and I think the somewhat blurry picture of my big smallmouth may have been the best I've taken on the lake.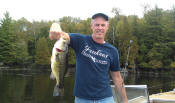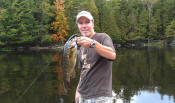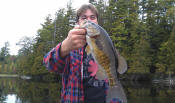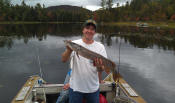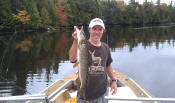 ---
September 2012 - Alexandria Bay, St Lawrence River
So we got the bug to catch a Muskie, If Pike are big and mean and fun to catch, a Muskie must be bigger, meaner, and even more fun to catch right? Well, that may be, but I still don't believe they exist. At any rate, we did our best to research on methods and locations and Jon even retrofitted his boat for our adventure. (Of course he did). We decided on the St. Lawrence River near Alexandria Bay and despite our best effort, we didn't catch a single fish or even get a bite. In all fairness to us, the Muskie is a very elusive bite and can take thousands of casts per fish.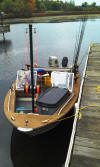 When I say retrofit, I mean retrofit. That mast would serve as our trolling mechanism for the custom (very large) planer boards Jon aslo built. It was quite impressive actually.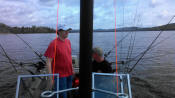 Should catch something with all these poles out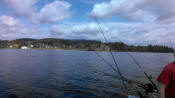 Here's the massive custom made planer boards in action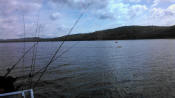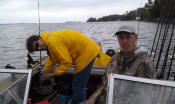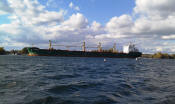 ---

May 2013, first spring trip to Saranac Lake


So I had been putting the bug in Jon's ear to go up to Middle Saranac in the Spring, I figured the Pike fishing could be very good in May right after the fish spawn. Of course there are little to no weeds in May, so we would be potentially fishing different areas of the lake.
We camped near a favorite bay and were able to get a site with a lean-to which is always a bonus.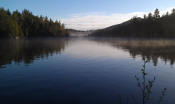 The early morning fog lifting off Hungry Bay looking toward the entrance to Weller Pond
I believe this was the first fish we caught, Jon's best pike, and maybe the biggest we've caught on the lake to date.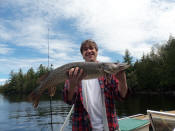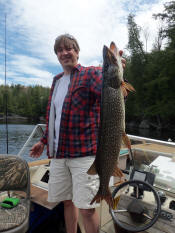 I recall we both caught pike but Jon really had a good trip, I think he may have landed a half dozen pike or more, oh yeah and this crazy bullhead that hit a Red Eye Wiggler.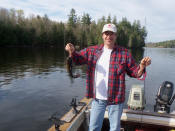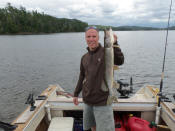 ---

October 2013, Cranberry Lake


After hearing about and even seeing the massive Pike that this lake held in the winter, we decided to give it a try in the fall of 2013. One day the previous winter we went hard water fishing up there, and this brute was caught! I believe it was 27 pounds and something like 47 or 48 inches.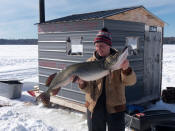 So of course the following fall we gave it a try. I recall we had great weather but the fishing was VERY slow, every place that looked Pikey to us, just didn't yield a single strike from our best Pike lures and presentations. We managed to catch a really nice smallmouth while trolling a large spoon (weird), but that was about it.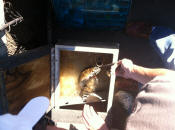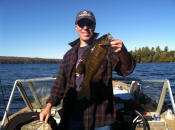 ---

September 2014, back to Saranac Lake


This would be the year we decided to just return to Saranac annually. It's nice to be very familiar with a place and at least know that we will catch a few fish.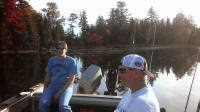 A familar scenario.
I recall we stopped at the river mouth just before Middle Saranac and caught some giant Golden Shiners and also had the opportunity to get out of the boat and wade in the cool water.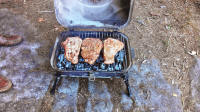 Of course we ALWAYS eat well, and Roger marinates a mean steak!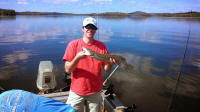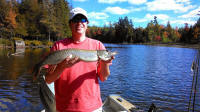 It would appear Jon was the only one to catch any pike, at least that we took pictures of.