---

Just 1 week after completing the Seward Range, which proved to be fairly challenging, we decided to conquer Santanoni, Panther Peak and the infamous Couchsachraga. The plan was to hike all 3 peaks as a loop and potentially spend the night in a wilderness camp.

Brendan and I reached the Santanoni trailhead early and were on our way with full packs by 6:55 am. The weather was great this day, it was one of those clear clean September days with just the right amount of a cool breeze from time to time.

The autumn colors were just starting to show in spots as well and this pond created by beavers made for a nice shot early in our hike.





After taking the fairly easy stroll on Santanoni Road, we started the hiking in earnest on the Bradley Pond trail. Our first two creek crossings required a bit of skill. The first bridge was just out altogether so we had to rock hop, and the second bridge just didn't look or feel safe at all. We used it cautiously on the way in, but on the way back we decided to rock hop here as well.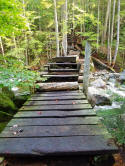 The plan was to make for the Santanoni Express Trail junction, then begin to look for a wilderness camp location as close to the junction as possible as we would be doing the loop clockwise and climbing Santanoni first.

Close to the Express trail junction, the brook flows fast and there's a few nice photo opportunities among the rocks and flumes.






So, we did find a "good enough" wilderness camp location about .2 miles past the junction. A good water source wasn't as close as we would like, but we didn't want to be too picky because we wanted to get started on our peaks right away knowing that we had a challenging day ahead of us.


OK, tent is up, let's lighten that pack and start climbing.

Shortly after crossing the brook on the Santanoni Express trail, we skirted along this beaver pond. This one was in need of a little maintenance but appeared to be active as well.





The climbing started in earnest shortly after turning away from the lowlands (and mud) and it wasn't long before we were getting some views looking back as we ascended.



What, we have to go up there? Ok, just give me a minute to ponder this and mentally prepare.


The Mountain Goat in his environment, waiting for me as usual.

Just about to summit and the views are getting better and better.




Mission accomplished after a tough little climb up the express trail.



The views from Santanoni's lookout are really great, and with it's distance from the Great Range, it puts those mountains in a whole new perspective. I imagine you can see most of the 46 high peaks from up there with only a few hidden to the east.



We could also see Bradley Pond and estimate where our wilderness camp was, man did it look far!

Knowing we had a long day ahead of us and two more peaks to conquer, we only spent a short time on Santanoni. Next, was the trek over to the junction just below Panther Peak known as Times Square and then on to the beloved Couchsachraga (aka Cooch).



From our final summit lookout just before heading to Times Square, Cooch beckons and challenges us mere mortals.

This fairly small and isolated peak has a reputation of being hated by many who seek to complete the 46. If you do it as part of the loop as we we did, it's only slightly annoying as you have to trek almost to the height of Panther Peak, only to turn left and descend into the Adirondack bog

that is the col between the junction and Couchsachraga Peak.

Even on the way to Cooch, you must enjoy the journey and the little gifts that nature provides. A black mushroom though? I'm not superstitious but that seems like a bad omen to me. Bruce bagged it anyway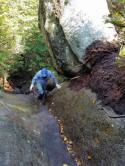 The final ascent to Cooch isn't bad at all really, but it is still an Adirondack high peak so expect some of this.



Second of the day, the infamous Cooch has been conquered. The sky was blue and the sun was shining.


Cooch boots!


So, after a short visit and a slightly better opinion of the little mountain, we headed back toward the bog and the long ascent to the junction and Panther Peak to complete our final summit. On the way over as you start to gain altitude, you come along a steep drop with an opening and you get a nice view of the Seward Range and the Sawtooth Mountains.





The true summit of Panther Peak and USGS marker lies mere yards from the bare rock open area with all the views. Of course there is a nasty bog between you and your goal. I mean why not, it's not like we have been sloshing through mud all day already.



Done and done!

The sun was warm and the views of our most recent exploits were right before us. Directly in front was Santanoni, little Cooch was in full view but still looked far away, and we could look northwest at the Seward Range and reminisce about last weekend.







The journey back to our wilderness camp was interesting to say the least. You need to descend down Panther Brook until you reach the Bradley Pond area. The Panther Brook trail can be a little tricky when your legs are starting to feel wobbly from a long day. We made good time however with only a few bumps and bruises, mostly me.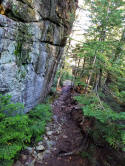 As you leave the brook and start skirting along the steep sides of Panther's knee, there are some really cool rock formations along the trail.

We did what we came to do and made pretty good time doing it, so when we reached our wilderness camp by just past 5 pm, we decided we would pack out that evening. As much as I like spending a night in camp, when I am sore from hiking I'll take my bed at home if available. I guess we carried our full packs for 7 miles today for what, training? Actually, with an aggressive plan to tackle 4 of the biggest in two weeks that includes a hike into and out of Panther Gorge with full packs, I guess this was good training.

Here's Brendan setting the pace on the final death march back to the car, we made it by 7 pm though and were in Flannagan's ordering a cheeseburger and Irish draft by 8! This trip brought my 46er quest to 39 and as I type this I am already looking forward to our next adventure.



Back to Top