Mom and Dad with the me and the kids at the top.

A view in late summer from the peak facing west by northwest with the Central Adirondacks in the background. Here's my youngest near the top with Great Sacandaga in the background. This guy is like a mountain goat!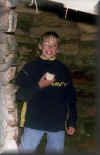 H

ere's the Mountain Goat enjoying and apple inside the old root cellar

Nephew Ryan and myself at the top.
Here's the old fire tower!