Saranac Lake Fishing Adventure (part 2)

Sept-Oct, 2017


This year we once again went late in September into October 1st. 4 days 3 nights. The weather was much better than expected based on the forecast a week prior to our trip. It looked like we were gong to get soaked for a couple of the days, but as it turned out it only rained Saturday night and then only while we were already in the tent for the evening, which makes for great sleeping.

The evenings were chilly however as a cold front had moved in the day before our trip. It may have affected the fairly slow fishing on this trip as well. The lake was also surprisingly empty of other boaters, campers and fisherman, at least in comparison to years past.

---
Day 1: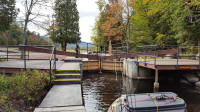 A familiar sight as we head through the upper locks toward Middle Saranac Lake.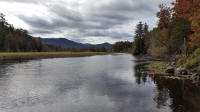 Time to leave the hustle and bustle behind for a few days.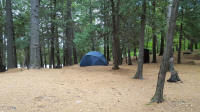 As long as the wind doesn't shift, the tent's close proximity to the outhouse is appreciated in the middle of the night.


With camp setup and the sun shining, it was time to hit the lake and see what would bite. Apparently we're in a hurry! Our Captain does just have a need for speed from time to time though.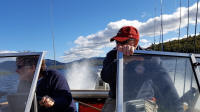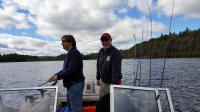 Fun times, fun times!

So as I recall, the fish did not cooperate on the first afternoon, although I don't think we spent too much time on the water. It was time to head to camp for a gourmet outdoor meal that would make any Irishman proud.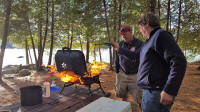 Ok kids, what's wrong with this picture? (look closely). Oh wait, it's all good, we have a fireman on duty!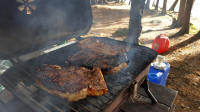 No words needed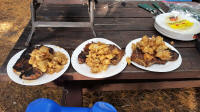 Meat and taters! I'm sure there was the third food group somewhere close by as well. Guinness.

Here's the aforementioned fireman doing what he does best, relaxing!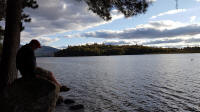 Ahh.., a nice sunset on the water in the 'Dacks, it never gets old.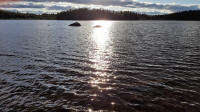 ---
Day 2: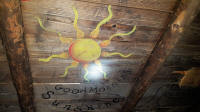 I obviously do not condone graffiti, but this is cool and it's been there a very long time.

The sun was shining that morning so we hit the lake after a hearty breakfast I am sure.

The Captain is on the board in a big way, I think this big female gator tops the list at Saranac or comes close to it. A quick measurement on the board before releasing her put her at 33" if I recall accurately. He pulled her out of a thick weed bed that we were drifting over, which of course we drifted over numerous times afterwards, but I am sure her presence emptied the neighborhood of any other fish as we didn't get any more strikes at that location.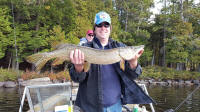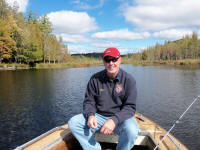 As you can see, Roger is very serious about fishing.

We hit a few favorite spots, and as I mentioned at the beginning of the trip report, the fishing (at least for Pike) was fairly slow.

I think I'll try the old red & white (Red Eye Wiggler).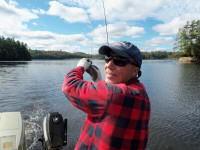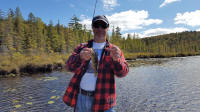 Well, it worked, but .... wrong species. I'm on the board anyway.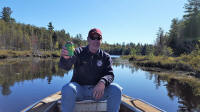 Oy !

As you can see, Roger was very serious about getting on the board.

If I recall, since it was mid-day and the fishing was slow, we stopped back at camp for lunch before heading to a favorite spot in the creek mouth later in the afternoon.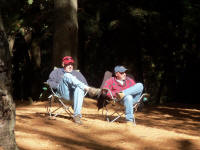 So here I am getting educated on Roger's fishing technique. I could get used to this.

As I mentioned, a little later in the afternoon we headed to the creek mouth in hopes that the bite would be as little better as the sun was setting. The pike fishing was still very slow, but I managed a few bass and 1 small hammer handle. We can always count on a few perch hitting our pike lures as well.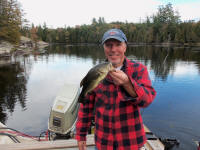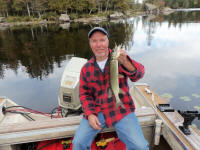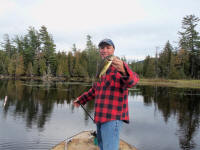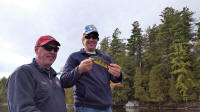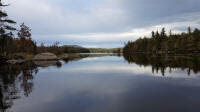 As the sun was going down, it was time to head towards "the drop-off", a location that we sometimes do very well at just before sunset.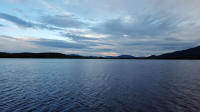 This looks like the spot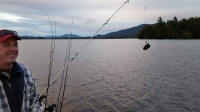 I don't know how he does it, but Roger seems to catch at least one of these on every trip. On the board!

---
Day 3:


We woke up to some clouds and fog the next morning, but no rain yet so, let's go fishing.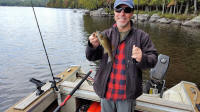 A feisty Smallmouth rounded out the 4 species slam for the weekend.

As we do on most trips, we cruised the lake and checked out some of the other camping areas (as long as they are empty). And as I mentioned earlier, there were surprisingly quite a few that were empty this year.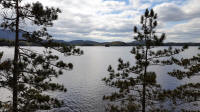 This one had a nice view from a cliff that was just above the campground.

This one has potential, I recall it had a nice beach in addition to the awesome fire pit.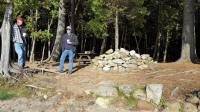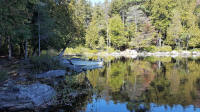 Another very secluded site with a lean-to was found, might be on the list for next Fall.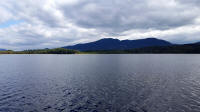 No trip would be complete without a nice picture and mention of Ampersand Mountain watching over us.


Since the fishing was slow, we decided to just enjoy the last afternoon and evening back at camp. I mean that's what this trip has always been about. No hurry, no pressure, no stress. If you recall the initial Saranac Trip page from way back in 1999, the goal was to fish for Pike, Bass, Perch and Peace. I can safely say we've never been skunked on that front.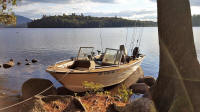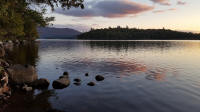 Last night in camp, time to get a roaring fire going and use up the firewood.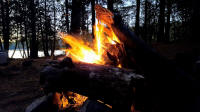 ---
Day 4:

We woke up to a gorgeous sunny and cool morning, the fog on the lake was really awesome. Unfortunately, it was time to pack up the camp.