---
This was year number 18 which is hard to believe in itself. We went up on a Thursday and stayed until Sunday. The weather was incredible considering our past experiences when we went in October, especially the first two days. We all managed to get a little sun and the sleeping temperature was perfect.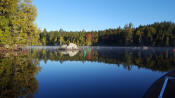 The water was like glass and the sky was cloudless as we ventured toward our destination the first day.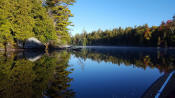 It was a little difficult to determine the actual shoreline from the reflection, awesome!

Once through the locks, we were on our way to our home away from home for a few days.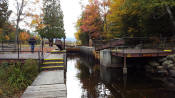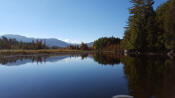 As you can see, the water level was very low due to our drought conditions this summer, it even kept us from getting to one of our favorite fishing holes.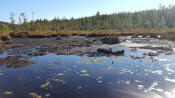 We did make it back into Weller pond without too much trouble and to our own little escape from the world for a few days.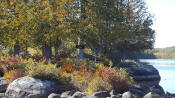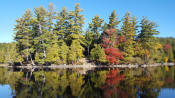 The first day we relaxed a camp for a good while and took our time setting up, enjoyed a few cold ones and let the worries of the world melt away, at least temporarily. I know we ventured out later in the day, but we really didn't put much thought into catching fish that first day. The next day the sun shone bright again and the lake was calling us, so after a good breakfast we headed out after the elusive Northern Pike (or whatever else would bite).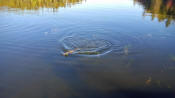 First one of the day is on the line, looks like a pretty good one.

Short Video of the action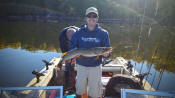 Jon is on the board with a pretty good pike from one of our favorite spots. A good way to start the day!

And another for JC, I sure hope that's Jon's blood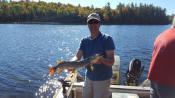 Ok, it looks like Jon is starting off nicely , and Roger and I managed to at least get on the board, although my first fish was about the same size as the lure I was using, it still counts. Looks like we've got most of the species covered as well.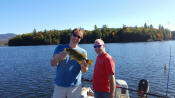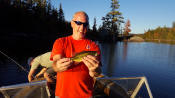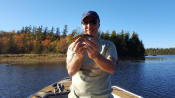 A nice sunset and another end to a perfect day in the Adirondacks, those clouds like like we might be in for some rain tomorrow though.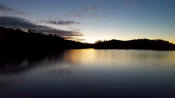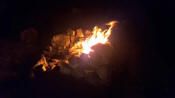 We did get a little light rain overnight so the next day after breakfast, or maybe after lunch, I don't recall exactly which, we decided to setup a little tarp shelter in the event that we needed to hunker down later on.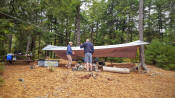 Looks good to me, let's go fishing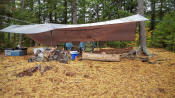 After preparing camp for the worst, we headed back out and tried our luck at a familiar spot. Roger was killing it, he caught these two within a few minutes of each other, they are not the same fish! The second one was pushing 30 inches.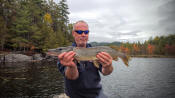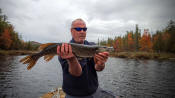 A little later in the day, we tried one of our best producing spots over the years, although lately it hasn't been as good. I finally got into the fish a little and got a pike as well as a pretty nice smallie and a very nice perch. That fish hit a very large pike lure, I don't know what he was thinking.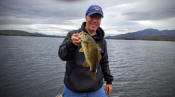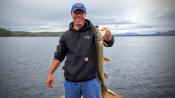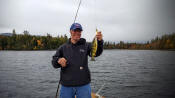 Nothing like waiting until the bottom of the ninth, I was happy in case you can't tell by the grin.

Our last full day came to an end and on the way back to camp we were treated to one of the most stunning sunsets I've ever seen, It lasted only a few minutes, and my phone camera doesn't do the reality justice, you just had to be there.



I managed to capture this panorama as well, awesome!


So a great time was had by all, we ate well, slept well, enjoyed a few cold beverages, and we all caught some fish. Oh yeah and one of them bit Roger. Nothing a little tape and fermented hops can't cure.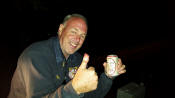 Click on a link below to re-live the first 10 years of our adventure