Saranac Lake Fishing Adventure (part 2)

go back in time to part 1

October, 2015

This year schedules had us going a little later than normal, and you just never know what kind of weather you will get up there in October, but it wasn't too bad, a little cold out on the water in the morning and in the tent in the evening.

We were able to get back into a "secret" spot that I have often wondered about and is only available when the water is high enough. We tried it for the first time the previous spring and Jon "almost" landed a real big pike. I was manning the camera, Jacob was on the net .... just saying. At any rate, we got back in there this fall and it didn't take long for my lure to be the one to drop in front of the king (or queen in this case) of this little honey hole.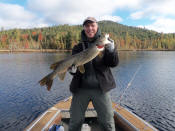 Defintely my best pike to date up here

I remember the fishing being very good and the weather was great. I need to search for some more pictures because I am sure the boys landed some as well.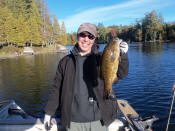 This Smallmouth defintely rivals the big one I caught back in 2011

A few more nice "gators", and a fiesty largemouth to boot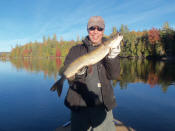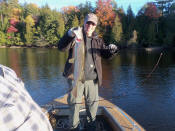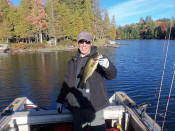 I think I like October!