Another year has come and gone, our 4th annual trip was a great success. Roger couldn't make it and we had great weather.....hmmm....just an observation. This year we brought a small rowboat and outboard in the hopes that we could get to the "good" spots if the water was too low. The water was actually above normal for a drought year thanks to Tropical storm Isadore. Towing the boat proved to be more trouble than the benefits so it's off the list for next year. We did enjoy an early morning on the river and caught a mess of perch from the rowboat. The fishing this year was probably the best yet. I managed to catch a few nice Bass (largemouth and smallmouth) as well as some Pike in addition to all the Perch and one Sunfish. That's 5 species. Jon caught Pike, Bass and Perch as well.

One moment really stands out for me, it was late in the day, the sun had set and the twilight was reflecting off of the now glass like water. We announced the official "last cast" because we had to get back to the island before it got too dark. I sent my lure toward the twilight and watched as it gently touched down on the still surface. Almost immediately, I saw a huge swirl and a splash and I had a Northern on my line. This only happens on television, right? After a short battle, I landed my best fish of the trip. The surrounding view only made it better. What a way to end the day! Another defining moment was on the last morning, we heard a Loon across the lake calling repeatedly, so we cruised over to check him out. Before we got too close, Jon shut the motor down and we drifted closer and closer. We ended up very close to him and were able to get some good video of his calling and diving antics. I am amazed at how far they can swim underwater. At one point he popped up right next to the boat but by the time I went for the camera, he realized his mistake and dove again. This time surfacing very far from us. He never let us get close after that. We also saw an Otter and a Bald Eagle again this year as well as a variety of waterfowl. At night we were treated to the howling of Coyotes in the distance and the haunting call of the Loon. Let's not forget the awesome display of stars in the clear north country sky. As I type this, I am already looking forward to next year.


Here's the twilight view before and after the "last cast"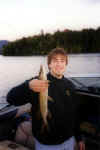 Jon with a nice pike, sorry Jon, he's too small to eat!


Back to Saranac Home
(part 1)

jump ahead to part 2